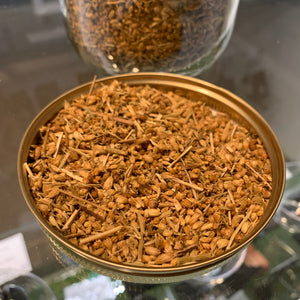 Herb || 0.5 oz Yarrow
This listing is for one 0.5oz bag of yarrow.
Size:  0.5 oz
Herb: Yarrow
Properties   Yarrow is useful in divination and protection rituals. Hanging or sprinkling yarrow along a doorway is thought to turn away evil spirits and illness. Wearing a mojo bag or amulet containing yarrow is said to protect the wearer and grant courage. Use in spiritual baths before psychic or divination work.
About For use in incenses, spiritual baths, or spell bottles. NOT food grade, please DO NOT ingest.
Metaphysical claims are based on lore, history, and personal experience and should not take the place of professional medical care. May you be healthy, may you experience joy, may you be at peace. - Laura Loup