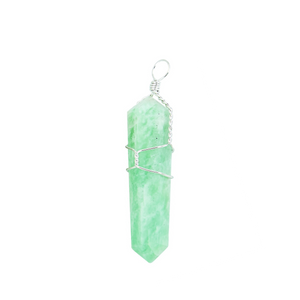 Pendant || Wire Wrapped || Amazonite
This listing is for one pendant. Chain is not included.
Size:  approx 40mm x 10mm
Stone: Amazonite
Properties Amazonite is said to bring calmness, courage, and success. This is a wonderful stone to relieve anxiety and increase self confidence, as well as bring clarity to its owner. Amazonite is also said to assist in communication and to heal the effects of emotional trauma. Amazonite was treasured by ancient Egyptians, who used it to make jewelry and decorations.
All crystals are unique, please let me know if you have any specifications and I'll do my best to choose the perfect crystal for you!
Metaphysical claims are based on lore, history, and personal experience and should not take the place of professional medical care. May you be healthy, may you experience joy, may you be at peace. - Laura Loup