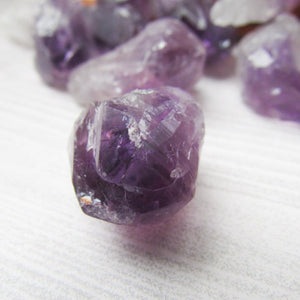 Raw Point || Amethyst || Small
This listing is for one amethyst point.
Stones Amethyst
Dimensions Approx. 1 oz or under
Properties Amethyst is one of the most powerful stones for dispelling negativity and enhancing psychic ability. Meditating with amethyst is said to bring you to a higher spiritual level, and wearing amethyst is said to protect you from evil and psychic attack. Putting an amethyst under your pillow is said to bring about pleasant dreams.
About All crystals are unique, please let me know if you have any specifications and I'll do my best to choose the perfect crystal for you! 
*Disclaimer Metaphysical claims are based on lore, history, and personal experience and should not take the place of professional medical care.