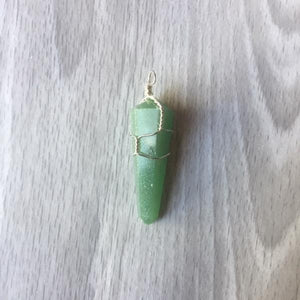 Pendant || Wire Wrapped || Aventurine
This listing is for one pendant. Chain is not included.
Stones Aventurine
Dimensions approx 40mm x 10mm
Properties: Aventurine is an extremely lucky stone, said to calm anxiety and bring adventure and opportunity to its owner. Also known as the "gambler's stone", aventurine is said to attract wealth. Using aventurine during meditation is said to help attract what you desire. The name of the stone comes from the Italian word "ventura", meaning "fortune".
*Disclaimer Metaphysical claims are based on lore, history, and personal experience and should not take the place of professional medical care.