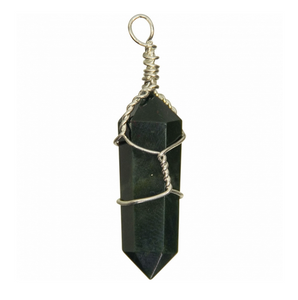 Pendant || Wire Wrapped || Bloodstone
This listing is for one bloodstone pendant. 
Stones Bloodstone
Properties Bloodstone is helpful in aligning the heart chakra with the lower chakras. This purifying stone has long been treasured as a talisman of health, protection, and longevity. Bloodstone is also believed to banish negativity and protect from deception. Legend has it, bloodstone was created when the blood of Jesus Christ landed upon the dark green earth. 
Dimensions approx 40mm x 10mm
Chain This pendant is sold without a chain. To purchase a chain please use this listing.
*Disclaimer Metaphysical claims are based on lore, history, and personal experience and should not take the place of professional medical care.