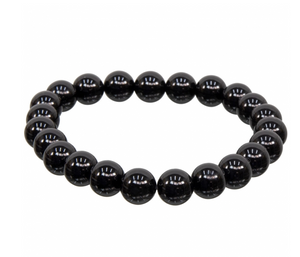 Bracelet || Obsidian || 8mm Round Beads
Regular price $10.00 Sale
This listing is for one bracelet. 

Stones: Black Obsidian
Size 8mm beads
Properties Obsidian is a volcanic glass; although it can be hard to tell apart from onyx, obsidian is lighter and slightly translucent. Obsidian is a very grounding and protective stone. It destroys negative energy and clears mental and spiritual blockages. Obsidian's dark reflective surface makes it useful as a scrying tool.
About
All crystals are unique, your bracelet will be the same design as the bracelet pictured but the stones may vary slightly in size and shape. One size fits all. 
*Disclaimer Metaphysical claims are based on lore, history, and personal experience and should not take the place of professional medical care.