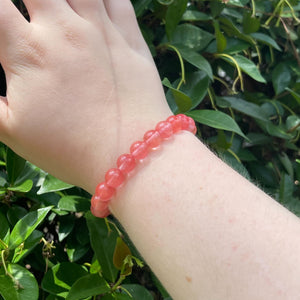 Bracelet || Watermelon Tourmaline || 8mm Round Beads
Regular price $10.00 Sale
This listing is for one bracelet. 
Size:  8mm beads, one size fits all
Stone: Watermelon Tourmaline
Properties: Watermelon Tourmaline is a combination of Pink and Green Tourmaline that soothes the heart and counters anger or resentment. It aids in releasing stress, especially when used in meditation. This crystal is thought to calm the mind and soothe emotions.
About
All crystals are unique, your bracelet will be the same design as the bracelet pictured but the stones may vary slightly in size and shape. One size fits all. 
*Disclaimer Metaphysical claims are based on lore, history, and personal experience and should not take the place of professional medical care.