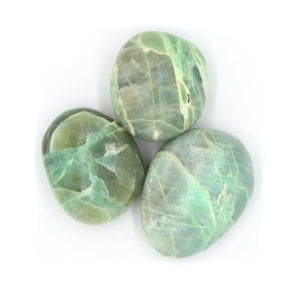 Palm Stone || Green Moonstone
Regular price $11.00 Sale
This listing is for 1 carefully chosen crystal.
Stones Green Moonstone
Size Approximately 3" at widest point
Properties Green Moonstone is a powerful emotional healer, connecting mind to heart. This crystal is ideal for emotional balance and liberation, creating harmony and alignment. Moonstone is an exquisite stone dedicated to the lunar cycle that reminds us of life's constant metamorphosis and encourages going with the flow. It emits calming vibrations full of feminine energy to purify the mind of negativity.
About All crystals are unique, please let me know if you have any specifications and I'll do my best to choose the perfect crystal for you!
*Disclaimer Metaphysical claims are based on lore, history, and personal experience and should not take the place of professional medical care.