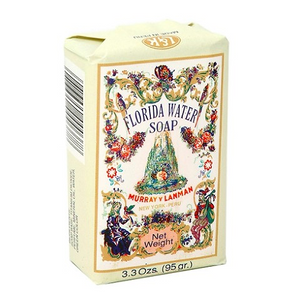 Soap Bar || Florida Water
Listing is for one bar of soap. 
Size: 3.3 oz
Ingredients: base soap, glycerin, fragrance, bioxido of titanio, EDTA, FD &C
About: Enjoy the refreshing scent of Florida Water in this delightful soap. This was created as a mild complexion soap. The soap label, designed by the famous French Designer, Du Maurier, depicts the flower potpourri, birds, troubadours, and the Fountain of Youth because of the fresh, fragrance of Florida Water and also because Ponce de Leon discovered Florida in 1512 while searching for the Fountain of Youth. It makes sense that this soap, thought to bring a youthful glow to your complexion, would have the Fountain of Youth on its label.
Florida Water is said to have cleansing properties, and is commonly used for ritual offerings, purification, and spiritual bathing.
*Disclaimer Metaphysical claims are based on lore, history, and personal experience and should not take the place of professional medical care.