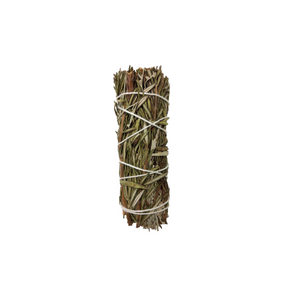 Herb Bundle || Blue Sage and Rosemary || Incense
This listing is for one bundle of hand wrapped rosemary and blue sage
Size: 4"
Herb: Blue Sage and Rosemary
About: Rosemary is for helping focus and concentration. Burn if you're feeling scattered or distracted. May also improve memory.
Blue Sage is used to clear negativity and hatred, to cleanse living space, and to attract prosperity and healing.
To use: Hold over a fire-proof dish and light the end on fire, allow it to smolder and use the smoke to clear your space!
*Disclaimer Metaphysical claims are based on lore, history, and personal experience and should not take the place of professional medical care.