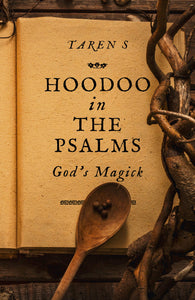 Hoodoo in the Psalms: God's Magick by Taren S.
Regular price $18.95 Sale
Witchcraft and magic in America is an inherently multicultural experience and the folklore of our ancestors from every country converges here at a crossroads. It's a complicated history; one of uncertainty and fear, displacement and enslavement, merging and migration. Our ancestors may not have agreed on how they saw the world or the magic that inhabits the world, but they shared a very real fear of Witches. Hags, Devils, charms and spells; witchery is rooted in our deepest superstitions and folklore. The traditions of people and their cultures stretch and intersect across the country and this is where the unique traditions of American witchcraft and magic are born. As practitioners seek to revive and reconstruct the paths of our ancestors, we've begun to trace the interconnected roots of witchcraft folklore as it emerged in the Americas, from the blending of people and their faiths. For multiracial practitioners, this is part of our identity as Americans and as witches of this country. Folkloric American Witchcraft and the Multicultural Experience is an exploration of the folklore, magic and witchcraft that was forged in the New World.