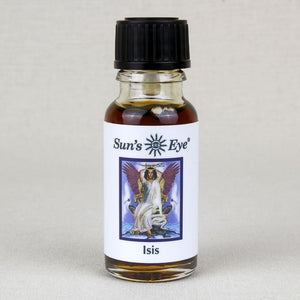 Oil || Isis || Sun's Eye
This listing is for one glass bottle of oil.
Size 0.5 fl oz
About: Formulated to encourage attributes of Isis: goddess of motherhood and the throne.
Mystic Blends hand-blended oils with dried herbs are meant to vibrationally enhance the positive atmospheres for which they are named. Sun's Eyes formulae and property listings are based on traditional and time-honored associations. No guarantee of results is implied. 
Sun's Eye oils are highly concentrated blends of essential and fragrance oils that are synthesized from a wide variety of ingredients. The oils are petroleum-free, paraben-free, DBP and DEHP-free, as well as vegan—meaning no animal products or testing. 
External use only.  Do not ingest.  Keep away from children and finished surfaces.
*Disclaimer Metaphysical claims are based on lore, history, and personal experience and should not take the place of professional medical care.