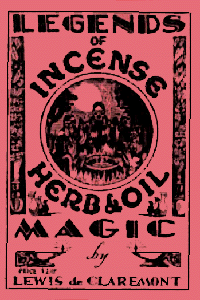 Legends of Incense, Herb, and Oil Magic by Lewis de Claremont
Regular price $15.16 Sale
A strong influence on 20th century hoodoo practices, this collection of occult tidbits by Lewis de Claremont integrates European and African-American traditions.

Included is basic information gleaned from a variety of ancient and modern sources on dressing oils in antiquity and in the contemporary traditions, Medieval philtres and potions, incense in Hebrew and Egyptian history and in modern times, ancient and modern magical uses of dozens of illustrated herbs and roots, how to use sachet powders for magical ends, how to use baths and washes, and a series of philosophical and mystical illustrations revealing the author's Hermetic-style conceptions of the relationship between the material and spiritual worlds.

Most remarkable in this latter context are Lewis de Claremont's four-fold illustrated distinction between Man (Earth), Chiram [Hiram] (Water), Lucifer (Fire), and Satan (Air); and a cryptic diagram labelled "Spirit / Matter : Dog / God." These diagrams are not explained in the text and they bear no relation to any other grimoire or book of alchemical or hermetic magic known to me. Perhaps they constitute the author's own unqiue perspective on reality; perhaps they were lifted from an earlier book on occultism in which their full context was explained.