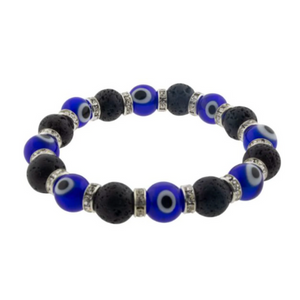 Bracelet || Nazar "Evil Eye" Lava and Cobalt Beaded Bracelet
Regular price $10.00 Sale
This listing is for one bracelet. 

Size:  8mm beads, one size fits all
Beads:
Glass "Evil Eye" Beads 
Properties:
The Nazar originates from Turkey. Some cultures believe that people can transmit their bad energy with a malevolent glare; this is called the "evil eye". Having a Nazar amulet may protect you from looks charged with envy, fear, resentment or other negative thought. These amulets may also be called "evil eyes". 
The black lava beads may be used to diffuse your favorite oil for aromatherapy. 
*Disclaimer Metaphysical claims are based on lore, history, and personal experience and should not take the place of professional medical care.