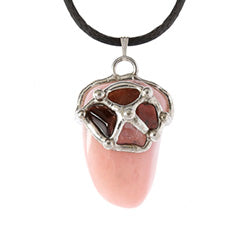 Pendant || Seeds of Light Gem Drop || The Lovers
Regular price $26.00 Sale
This listing is for one gem drop. 
Intention: Keep Me Safe (Safe Travels)
Stones: Pink Opal, Garnet, Red Tiger's Eye, Goldstone, Kunzite

About:  The combinations of stones encourage and reinforce the true magic that lies within romantic relationships.
Seeds of Light was established by designer Susan Buzard Buchanan in the summer of 1989. All jewelry is created from hand selected crystal and stones from mines throughout the world.
Crystal wands and jewelry handcrafted with love in the USA. Featuring Ascension, Light Workers, Beam of Light, Chakra, Reiki, transformational, astrological, goddess, and much more. Made with silver, tin, and crystals.
*Disclaimer Metaphysical claims are based on lore, history, and personal experience and should not take the place of professional medical care.