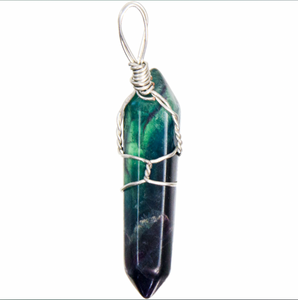 Pendant || Wire Wrapped || Fluorite
This listing is for one wire wrapped point. 
Stones Fluorite
Properties In folklore, colorful fluorite is said to be the home of the imagination. It's a powerful healing stone, bringing peace and balance. Use fluorite to enhance meditation and spiritual communication. Fluorite can come in every single color on the spectrum. Fluorite will glow under ultraviolet light; in fact, the world fluorescent comes from fluorite.
About All crystals are unique, your pendant will be the same design as the pendant pictured but may vary slightly in size and shape.
*Disclaimer Metaphysical claims are based on lore, history, and personal experience and should not take the place of professional medical care.