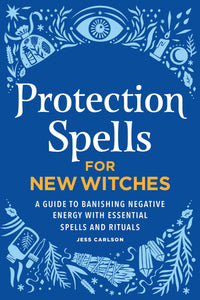 Protection Spells for New Witches by Jess Carlson
Regular price $14.99 Sale
Enter the world of witchcraft with spells to protect your heart and mind


Protection magic is a powerful and important practice for every witch. With protection spells, you can shield yourself, your space, and your loved ones from harmful energy, and help keep everything that matters to you safe. This spellbook guides you through the fundamentals of protection magic, and includes a whole collection of charms and spells that deflect negativity and welcome peace.

Made for new witches

—These rituals and remedies feature simple steps and use inexpensive, easy-to-find materials, so any witch can try them out right away.

A solid foundation—

Begin with an overview of protection magic that covers the history, the key techniques, and the essential tools and ingredients you'll need for successful spellwork.

Spells for all forms of protection

—Find wellness and acceptance in every facet of your life, with a pink candle spell to clear your mind, a sandalwood amulet to ward off anxiety, and an incense ritual to bless your home.

Use a little magic to boost your well-being with 
Protection Spells for New Witches

.