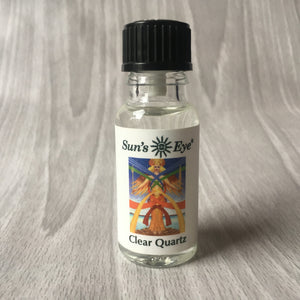 Oil || Psychic Power || Sun's Eye Perfume Oil
This listing is for one glass bottle of oil.
Size 0.5 fl oz
About: Psychic Power features Mugwort to help focus psychic energy.
WARNING: Mugwort is cross-reactive with latex allergies. Do not use if you are allergic to latex.  
Sun's Eye Mystic Blends are hand-blended oils with dried herbs meant to vibrationally enhance the positive atmospheres for which they are named. Our formulae and property listings are based on traditional and time-honored associations. No guarantee of results is implied. 
Uses:
Anoint your candles for an extra kick of power!
Rub on your pulse points as perfume (if your skin is sensitive, try rubbing on a bit of coconut or olive oil first to create a barrier)
Add to any oil or reed diffuser
Put 1 drop on a scrap of fabric and keep it at the bottom of your Tarot bag to impart the scent to the cards
Drop 1-3 drops onto a lit salt lamp
*Disclaimer Metaphysical claims are based on lore, history, and personal experience and should not take the place of professional medical care.