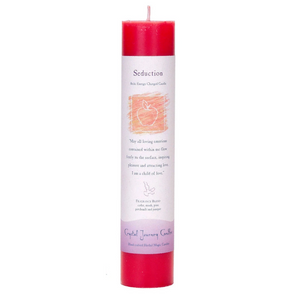 Reiki Herbal Pillar Candle Seduction
Regular price $0.00 $11.11 Sale
This listing is for one reiki infused candle.
Size:  1.5" x 7"
Scents: Musk, Patchouli, Pine, Cedar, Juniper
About: Use to attract a lusty relationship. Use in combination with Love candle to put a spark back into a tired relationship.
Each of our magic candles has been designed with a specific intention using a unique blend of essential oils by Crystal Journey. Each candle comes with an affirmation and inspirational message. 
Crystal Journey candles are  hand crafted in the U.S.A. in Connecticut and are made from the finest waxes and purest blends of essential oils. The wicks are made from paper and cotton only. These candles are made with lead-free materials.
*Disclaimer Metaphysical claims are based on lore, history, and personal experience and should not take the place of professional medical care.