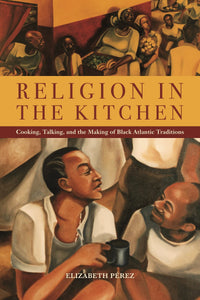 Religion in the Kitchen: Cooking, Talking, and the Making of Black Atlantic Traditions by Elizabeth Pérez
Regular price $30.00 Sale
Honorable Mention, 2019 Barbara T. Christian Literary Award, given by the Caribbean Studies Association
Winner, 2017 Clifford Geertz Prize in the Anthropology of Religion, presented by the Society for the Anthropology of Religion section of the American Anthropological Association

Finalist, 2017 Albert J. Raboteau Prize for the Best Book in Africana Religions presented by the Journal of Africana Religions
An examination of the religious importance of food among Caribbean and Latin American communities


Before honey can be offered to the Afro-Cuban deity Ochún, it must be tasted, to prove to her that it is good. In African-inspired religions throughout the Caribbean, Latin America, and the United States, such gestures instill the attitudes that turn participants into practitioners. Acquiring deep knowledge of the diets of the gods and ancestors constructs adherents' identities; to learn to fix the gods' favorite dishes is to be "seasoned" into their service.

In this innovative work, Elizabeth Pérez reveals how seemingly trivial "micropractices" such as the preparation of sacred foods, are complex rituals in their own right. Drawing on years of ethnographic research in Chicago among practitioners of Lucumí, the transnational tradition popularly known as Santería, Pérez focuses on the behind-the-scenes work of the primarily women and gay men responsible for feeding the gods. She reveals how cooking and talking around the kitchen table have played vital socializing roles in Black Atlantic religions.

Entering the world of divine desires and the varied flavors that speak to them, this volume takes a fresh approach to the anthropology of religion. Its richly textured portrait of a predominantly African-American Lucumí community reconceptualizes race, gender, sexuality, and affect in the formation of religious identity, proposing that every religion coalesces and sustains itself through its own secret recipe of micropractices.