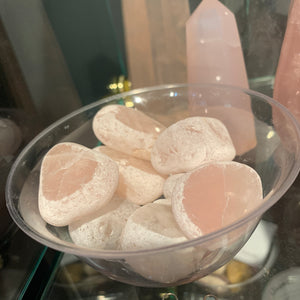 Seer Stone || Rose Quartz
This listing is for one seer stone.
Properties:
Rose quartz is also known as the love stone. Rose quartz encourages all kinds of love, whether that be self love, romantic love, or even friendship. It's said to enhance its owners self love, as well as their love for others. It brings joy, peace, and compassion. Rose quartz has a gentle healing energy that helps to relieve emotional pain. When worn, it's said to bring a sense of warmth and security.
About:
These stones are naturally tumbled in a river in Brazil, creating a beautiful frosted exterior. One side has been cut and polished to allow you to look into the stone. These seer stones are wonderful for use in divination. What beautiful shapes and symbols will you see when you look inside?
Disclaimer 
Metaphysical claims are based on lore, history, and personal experience and should not take the place of professional medical care.