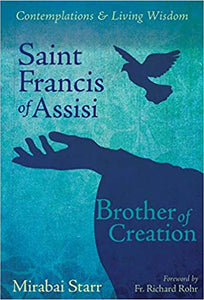 Saint Francis of Assisi: Brother of Creation (Contemplations & Living Wisdom) by Mirabai Starr
When a small village was plagued by a wild wolf, it is told that a humble friar named Francis came and met the predator with nothing but his gentle words―and turned the wolf from a menace to a welcome citizen. This graceful man, who spoke to each part of Creation as a sister or brother, has become one of the most beloved of all saints.

In both joy and adversity, Saint Francis served as a bold example of how to live completely and authentically as a follower of Christ. From his survival as a prisoner of war to the series of awakenings that helped him to reform the Catholic Church, Francis drew his strength from his miraculous, loving union with the natural world.

Saint Francis of Assisi is an essential devotional reader for building your personal connection to the spirit of this modest Italian sage. Through stories, prayers, and his own writings, you are invited to share in Francis's nourishing devotion to God, and in his profound compassion toward all living things.