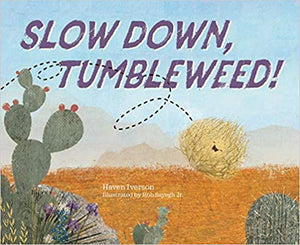 Slow Down, Tumbleweed! by Haven Iverson
Regular price $17.99 Sale
 Children will see how learning to slow down gives you a chance to notice and appreciate the beauty in the world.


In our fast-paced society, children are often missing the value of slowing down. Slow Down, Tumbleweed! is about a wild and roaming tumbleweed who thinks the world is only interesting if you rush through life. Then she gets caught on a fence and is forced to slow down.

As she learns to sit in stillness and quiet, Mabel notices the beauty of the world around her―the music of wind chimes, the shapes in the clouds, the long eyelashes of a heifer. She sees there is so much that is interesting and beautiful right here, right now. You don't have to chase it.

Slow Down, Tumbleweed! teaches children the importance of slowing down, pausing to take a breath, and cultivating mindfulness. It shows the peace and gratitude you feel when you learn to be calm and open your awareness. This book celebrates all of life―both moving fast and moving slow.