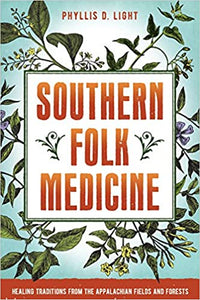 Southern Folk Medicine: Healing Traditions from the Appalachian Fields and Forests by Phyllis D. Light
Regular price $21.95 Sale
This book is the first to describe the history, folklore, assessment methods, and remedies of Southern and Appalachian Folk Medicine--the only system of folk medicine, other than Native American, that developed in the United States. One of the system's last active practitioners, Phyllis D. Light has studied and worked with herbs, foods, and other healing techniques for more than thirty years. In everyday language, she explains how Southern and Appalachian Folk Medicine was passed down orally through the generations by herbalists and healers who cared for people in their communities with the natural tools on hand.
"Few people know about the practice of Southern Folk Medicine. Heavily based on ancient Greek and European practices, melded with Native American, Christian, and African influences, this system offers us a uniquely American way to look at and positively influence the human body and relieve disease. Written in an easy-to-understand and autobiographical manner, this book will open your mind to a new way of understanding wellbeing, illness, and health."
--David Winston, RH (AHG) 
"This book is a treasure! It is at once charming to read and chock-full of plant wisdom. With the growing interest in scientific Western herbalism, ancient Ayurveda, and Traditional Chinese herbal medicine, with which the author is well acquainted, Light is able to remain true to her ancestral roots of Southern Appalachian herbal medicine. As such, it inspires our deeper appreciation for Southern Folk Medicine."
--Michael Tierra, OMD, founding member, American Herbalists Guild and author of The Way of Herbs and Planetary Herbology
" Southern Folk Medicine captures a part of our herbal traditions that is little known, practiced by fewer yet, and at risk of being lost. Much more than an individual's personal journey or interpretation, it presents a history of the development of culture and medicine in the South, integrates this with its relevance to modern healthcare today, and is reflective of a living tradition whose evolution continues."
--Roy Upton, herbalist and president, American Herbal Pharmacopoeia
PHYLLIS D. LIGHT, MA, RH (AHG), is a fourth generation herbalist and healer. Her studies in Southern and Appalachian folk medicine began at the age of ten in the deep woods of North Alabama with lessons from her Creek/Cherokee grandmother and continued with well-known folk herbalist Tommie Bass. She received a master of health studies from the University of Alabama. Light is a registered herbalist and currently acts as vice president of the American Herbalist Guild as well as a member of the Admissions Committee. She is also the president of the American Naturopathic Certification Board. Locally, Light is the director of the Arab, AL, Appalachian Center for Natural Health, which offers both online and residential classes. Learn more at phyllisdlight.com.