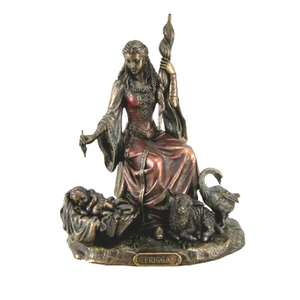 Statue || Frigga
Regular price $75.00 Sale
This listing is for one statue.
Size: approx. 6" x 5" x 8"
Material:
Cold cast bronze
About: Frigga is most often described as the wife of Odin and the mother of Baldur. She is the goddess of marriage, the protector of home and families, gives aid in childbirth and an inspiration for domestic arts and cottage industries. Frigga is a very popular goddess among those who worships and celebrate Norse mythologies due to her ability to remain an authority figure while being full partners with powerful men.
*Disclaimer Metaphysical claims are based on lore, history, and personal experience and should not take the place of professional medical care.