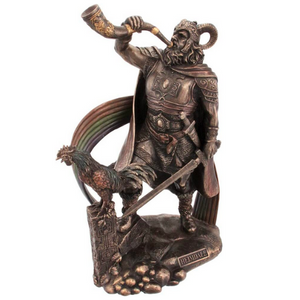 Statue || Heimdall
Regular price $85.00 Sale
This listing is for one statue.
Size: approx. 7" x 4" x 13"
Material:
Cold Cast Bronze
About: Heimdall is the god of light, the watchman of the gods and guards a rainbow bridge, the only entrance to Asgard, the realm of the gods. Heimdall has golden teeth, carries the horn Gjallar and owns the golden-maned horse Gulltoppr. Heimdall is attested as possessing foreknowledge, keen eyesight and hearing, and together with a rooster Gullinkambi he watches for the onset of Ragnarok (final destiny of the gods).
*Disclaimer Metaphysical claims are based on lore, history, and personal experience and should not take the place of professional medical care.