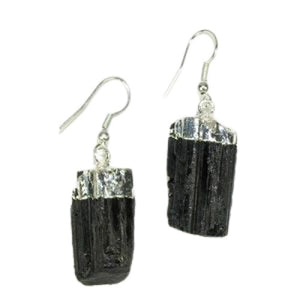 Earrings || Silver-plated Point || Tourmaline
Regular price $15.00 Sale
This listing is for pair of earrings.
Size:  Varies
Material:  Tourmaline, Silver-Plated Copper
Properties: 
Tourmaline is said to enhance psychic ability, understanding, and self confidence. It's said to neutralize negative emotions such as fear or grief. Tourmaline comes in many different colors, each with slightly different magical attributes. Black tourmaline in particular is said to be an extremely powerful grounding stone, while watermelon tourmaline is said to be an excellent balancing stone.
About: All crystals are unique, your earrings will be the same design as pictured but may vary slightly in size and shape.
*Disclaimer Metaphysical claims are based on lore, history, and personal experience and should not take the place of professional medical care.