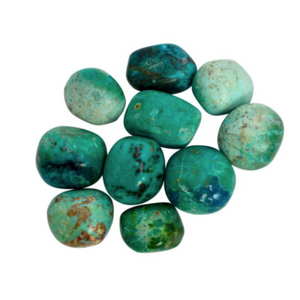 Tumbled Turquoise
This listing is for 1 carefully chosen crystal.
Size 
Approximately 20-25g
Properties: 

Turquoise encourages its wearer to seek out truth and knowledge. It is said to help attune you with the spiritual plane and provide protection during astral travel. Turquoise is known as a stone of good luck and a wealth drawing stone, especially when given as a gift rather than purchased. Turquoise can range in color from sky blue to green.
How to use 
Cleanse your crystal in moonlight or with incense smoke, then meditate with it on your intention and either keep it in your pocket, on your altar, or by your bed. 
Disclaimer 
Metaphysical claims are based on lore, history, and personal experience and should not take the place of professional medical care.